Date(s):
07/25/2018
12:00 pm - 1:00 pm
Location
Earl Scruggs Center
103 S. Lafayette Street
Shelby, North Carolina 28150
Visit Website
OPENING DAY: THE STORY BEHIND THE EXHIBIT
"HOME PLATE DON'T MOVE"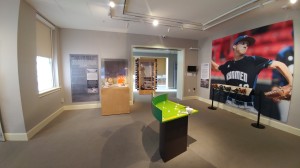 Any exhibit planning process has its fair share of curveballs; ESC Director of Experiences Patty Wagner's and Curator Meredith Nichter's process for the Center's latest exhibit "Home Plate Don't Move" was no exception.  Go behind the scenes with the exhibit's creators to discuss the creative process, ideas, and problem-solving that went into this exhibit.
Program FREE for members!
All others $5!
Bring a lunch or pre-order $10 boxed lunch and we will have it waiting for you!
Lunch Options Include:
Chef Salad
6″ Grilled Chicken Sub
6″ Grilled Steak Sub
6″ Vegetarian Sub
All subs come with chips.
All prepared lunches come with a choice of bottled water or canned soda.
Cost: FREE, $5
Contact: Stephanie
Contact Phone: 7044876233
Contact Email:
[email protected]